The soaring cost of electricity is a genuine concern, and real threat, to all Australian business owners, large or small, city or country.
Solar power, battery storage and other energy efficient innovations now give the business owner the unique opportunity, and ability, to take back control of their energy costs and budget more effectively. As well as reducing or eliminating the electricity cost, a solar lease provides other benefits such as GST refund, interest deductions, depreciation etc.
Why use your business cash flow or reserves to buy solar when you can easily apply for a commercial solar loan that not only preserves your working capital but offers tax benefits as well? With our unique no deposit solar finance you can get rid of that electricity bill right now!
The mainstream banks are not generally interested in providing solar finance to business owners and if they do then the bank requires property as security, registered mortgages and caveats, accountant prepared cash flow forecasts, annual reviews etc, all of which are time consuming and expensive to your business.
Here at Solar & Energy Finance we have commercial funders that are specialists in the field of solar and energy funding and we just get on with the job of providing business owners with fast and simple commercial solar finance.
Some of the great features of Solar & Energy Finance's commercial solar products are:
100% No Deposit commercial finance
Loans from $5,000 to $10 million
Chattel Mortgage Low Doc to $100,000 (2-year ABN and property owner)
Rental Low Doc to $150,000 (5-year ABN and property owner)
Loan terms from 1 – 7 years
Super-fast approvals and service
Security is only taken over the solar equipment – not your house or buildings!
No business cash flow projections required, and no annual loan reviews!
Sole traders, companies, Trusts, partnerships, sporting clubs, not for profit organisations etc
Leased business premises accepted
Non-property owners and short term ABN holders considered
Australia wide funding
PV Solar –Batteries – Storage – LED – Refrigeration – Air – we finance almost anything!
We are a proud Australian family-owned and operated finance business with 25 years' experience, call us now and experience the difference!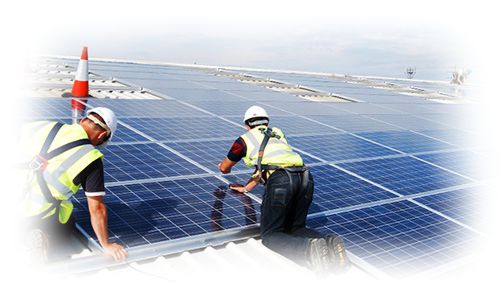 Ready to apply?
or if you prefer to use a pen, download the Commercial Solar Loan Application form here
To see an example of the commercial solar finance repayments, please click here.
Commercial Solar Finance Options
Solar & Energy Finance has a loan product to suit all businesses, including Chattel Mortgage or Rental
Chattel Mortgage
The client's business owns the solar equipment from day one
100% of the invoice cost can be financed
The client may be eligible to claim 100% of the GST in the next BAS
Interest component of repayments is tax deductible
Client can claim depreciation on the solar equipment
Fixed payments for the term make it easy to budget for
Solar loan is shown as a liability on the client's balance sheet
Only the solar equipment is used as security for the loan
Finance Lease
Similar to the Chattel Mortgage features but GST cannot be claimed up front and the funder owns the solar equipment until the final repayment is made
Rental (Operating Lease)
The business owner rents the solar equipment for the term of the loan
When the rental term expires the client may purchase the equipment off the funder for a final payment of $1
Repayments are 100% tax deductible
Preserves client's working capital and existing bank funding
Utilises the solar equipment or asset financed as security for the loan
Fixed payments for the term make it easy to budget for
Disclaimer
The above information is general in nature only; customers should not rely on the information above but should instead seek professional independent taxation advice from their accountant or solicitor. The information is not intended to imply taxation benefits are available to individual customers. Commercial finance is only available to commercial ABN holders and for business or commercial purposes only.